13 Sep 2023
Carlise Bethel, a DoD STEM Ambassador, Reflects on the Importance of Professional Development to Teachers
Databots, a tool for generating data via cell phone app and lab kits for turnkey instruction, are an important tool to bring science to life and engage students. Ambitious teacher development with hands-on materials is key to preparing the next generation for rapid advances in STEM learning and career opportunities.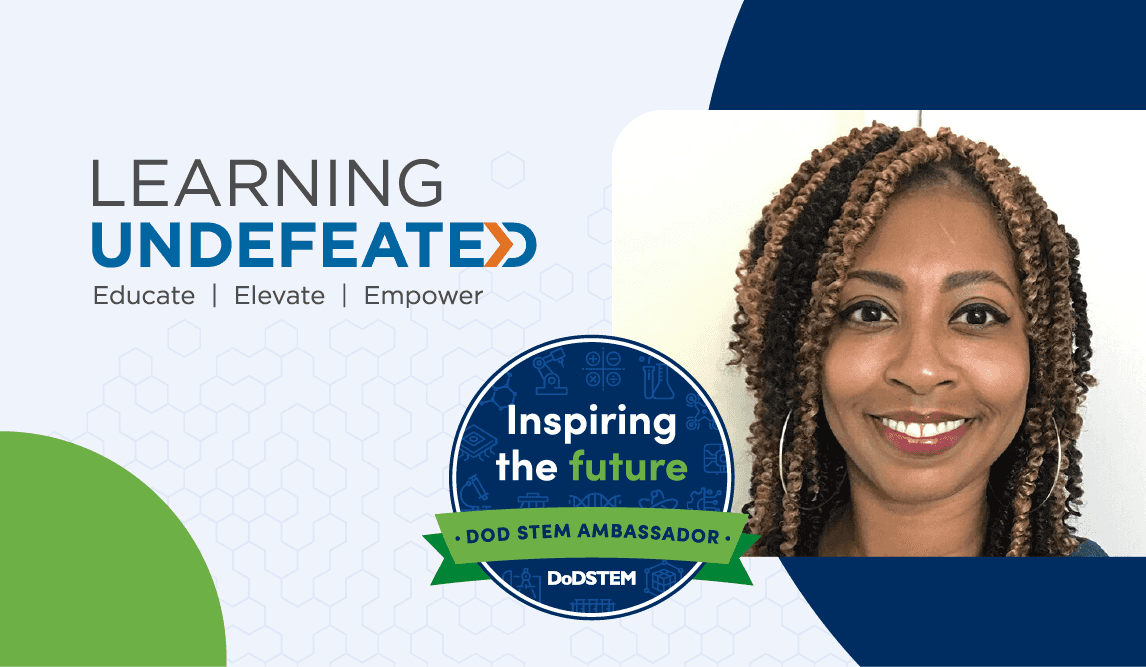 The following was written by Carlise Bethel, a high school science teacher and DoD STEM Ambassador. DoD STEM Ambassadors work with the Defense STEM Education Consortium (DSEC) to advance STEM outreach for students who are underrepresented in STEM or military connected. Bethel was selected by Learning Undefeated, a DSEC partner, as its DoD STEM ambassador for the 2022-2023 school year.
When I hit the 10-year mark as a classroom teacher, it became obvious that it was time to expand my skill set in a way that I had never attempted before. My career had included science instruction and curriculum writing. One of my skills is the ability to view an educational resource or tool and envision an entire lesson or unit that could be anchored by a phenomenon or case study. This is extremely exciting, as STEM learning opportunities have increased dramatically due to technological advances, the pandemic, and global environmental issues.
I have had the opportunity and intellectual freedom to rethink what life science courses should look like, as they morph into a hybrid model of project-based learning in the classroom supplemented by hands-on lab experiences and field trips. What has become most important to me lately, as a DoD STEM Ambassador, is the growing need for cross-disciplinary students. Question: How do we compete amid the fast pace required for instruction, plus curriculum, testing, and standards requirements? Answer: It all begins with offering ambitious professional development to teachers.
At the recent DoD STEM Technical Exchange, I listened intently as multiple leaders with the Department of Defense and STEM education companies explained the importance of early and consistent exposure to STEM. I also listened for information about gaps in the workforce. As a biologist, I am acutely aware of my lack of knowledge of coding and robotics, but I am also intrigued by it. I enjoy building things and love the idea of STEM kits that encourage curiosity and perseverance to get something to work. After attending the STEM Technical Exchange, it was clear that the demand for data scientists and biotechnologists is high.
So how does this demand translate into the classroom? I envision providing ways for students at all levels to generate data in the classroom. During our Saturday training sessions with the DoD STEM Ambassador Program, we had an awesome experience with Databots, a tool for generating data via cell phone app. I know that students will be enthusiastic about this type of data generation. Specifically, I am excited about using multiple sensors to gather data during a classic, simple biology lab—such as one about yeast fermentation.
In addition to using Databots, my teacher wish list includes a set of four mini-lab kits for beginning science teachers and even seasoned professionals. These kits would be easy to set up and scale for a classroom with six lab stations or groups. I was inspired to carry out this ambitious project by my sponsoring organization, Learning Undefeated. During the pandemic shutdown and subsequent year of hybrid instruction, Learning Undefeated provided at-home science kits to enable each student to complete labs virtually. They also provided online professional development sessions to help teachers become familiar with the materials and experimental procedures. It was great to see what a virtual lab looks like in real time, which many of us were trying for the first time. These kits were key to maintaining hands-on learning for our students during the many science class sessions on Zoom.
We can do much more to improve student access to lab equipment and ways to generate data. I have also learned about many community-based approaches to exposing students to STEM. Oftentimes our classrooms are limited by time, materials, and days spent on science instruction. With simple kits and a data-generating machine like Databots, we can arm teachers to inspire the next generation of thinkers efficiently and effectively. This can happen both inside and outside of the classroom.
About DoD STEM and Defense STEM Education Consortium
Defense STEM Education Consortium (DSEC) is a collaborative partnership of STEM-focused organizations dedicated to addressing and prioritizing our nation's STEM talent. DSEC aims to broaden STEM literacy and develop a diverse and agile workforce with the technical excellence to defend our nation. Through strategic investment in STEM education and outreach activities, the effort will provide students with more exposure to educational and career opportunities as well as DoD research. DSEC is led on behalf of DoD STEM by RTI International.
About Learning Undefeated
For more than 20 years, Learning Undefeated has been driving race and gender equity in STEM through experiential and deep-impact learning experiences for students from underresourced communities. Learning Undefeated has served 1.2 million students, with more than 250,000 having completed mobile laboratory experiences. For more information, visit https://www.learningundefeated.org.