15 May 2023
Students Build Underwater ROVs to Solve Real-World Engineering Challenges
The SeaPerch program from DSEC partner RoboNation trains educators to support student teams as they build underwater remotely operated vehicles as part of STEM learning. SeaPerch hands-on activities teach basic science and engineering concepts, tool safety, technical applications, problem-solving and teamwork. Many teams enter their projects in competitions.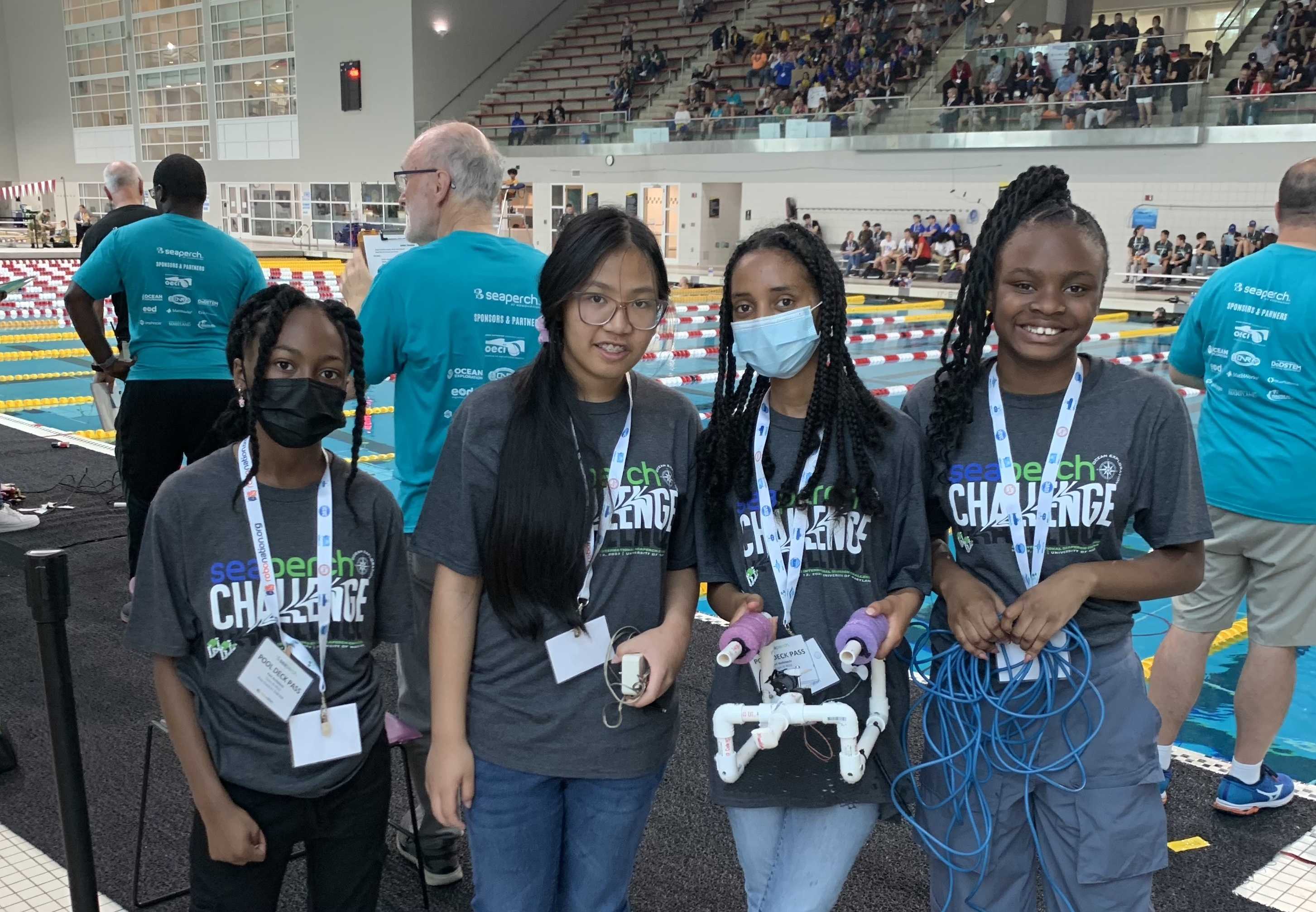 Students pose with their ROV at the 2023 International SeaPerch Challenge
DoD STEM and RoboNation, a Defense Science, Technology, Engineering and Mathematics Education Consortium (DSEC) partner, share a common goal: provide fun, exciting, hands-on activities to spark student interest in STEM learning, continued higher education and eventual STEM careers. RoboNation's SeaPerch program fulfills all these requirements and more. The program brings the Engineering Design Process (EDP) to life by providing training and materials to build an underwater remotely operated vehicle (ROV) that can solve a real-world problem, such as assisting in a waterway cleanup or exploration. The organization also sponsors competitions where teams get to see how their SeaPerch stacks up against others built by budding STEM enthusiasts.
The EDP is a cycle of steps used in engineering projects:
Ask: Identify the problem.
Imagine: Think of solutions.
Plan: Formalize the best solution.
Create: Build a prototype.
Test: Record and evaluate results.
Improve: Repeat steps as needed.
The EDP can be conducted in any order and can be used to continually improve a project's design.
Interview with Dr. Richard Quest, RoboNation education manager
Q. How does SeaPerch help students understand engineering concepts, specifically?
A. The nice thing about SeaPerch is that it has something for everyone: students, teachers and parents. SeaPerch takes the engineering design approach to explore very specific concepts in a powerful way: by having students experience what adult engineers know: building things is fun! And when they actually work, or solve a problem, well that's REALLY fun! We train instructors to use our problem-based curriculum that asks students to solve a real-life problem. For example, build an ROV or SeaPerch to assist in a waterway cleanup or exploration. By trying to solve this specific problem we can introduce many other STEM concepts. Our projects are relevant, low cost, accessible, designed for teams, student-led and offer training in our teacher-facilitated curriculum.
Q. What have you found that students thought about engineering before participating in your program, and what do they think about engineering afterwards? Instructors?
A. For students who have not been exposed to hands-on learning in this way, they are reticent and don't think they can do it. Instructors have similar trepidation. But their viewpoint changes when they build something that works, work in teams, understand they can be part of real-world solutions and discover links between what they're learning and future education and career possibilities. We see it time and again: participants go from "I'm afraid of this" to "I can do this and am no longer afraid!"
Q. How does student behavior change?
A. We start to see students REALLY engage with different engineering roles within the project. Most students find one job they really like. To generalize, they find they do like working on teams. Some students find they like writing the report; another will discover enjoyment in producing a video. As the program progresses, we start to see students make connections to real-world applications. In the waterway cleanup and exploration example, students get to delve into issues surrounding ocean debris, oil rig structures, bridge pilings and waterway infrastructure such as dams.
There is an "aha" moment when they make a connection between what they are working on and real-world careers. We tell them there are many jobs available in this area and that many are connected to the DoD (such as the National Oceanic and Atmospheric Administration and the Office of Naval Research) or as a civilian in private engineering firms. They then truly see that a SeaPerch is not just a "PVC plastic thing" that goes underwater. Students look at their classmates differently: "I didn't know you could do this!" Students look at their teachers and instructors differently too as they witness adults overcoming their fear of using power tools, such as soldering irons and ratchet blades. It is truly wonderful to witness students viewing their classmates in a different light.
And it's the same thing with teachers who start out saying "we do not have experience with robotics." Our response is "that is totally ok. We have a teacher training program. We just need teachers who are willing to try something new."
Q. What is the number one message you would like students to know after participating? Instructors?
A. Students: Keep pursuing interests that you've discovered during this program!
Instructors: Let's keep facilitating hands-on, or experiential, education vs. just talking about it.
About DoD STEM and Defense STEM Education Consortium
Defense STEM Education Consortium (DSEC) is a collaborative partnership of STEM-focused organizations dedicated to addressing and prioritizing our nation's STEM talent. DSEC aims to broaden STEM literacy and develop a diverse and agile workforce with the technical excellence to defend our nation. Through strategic investment in STEM education and outreach activities, the effort will provide students with more exposure to educational and career opportunities as well as DoD research. DSEC is led on behalf of DoD STEM by RTI International.
About ROBONATION
RoboNation was launched in 2009 to build a pathway of hands-on robotics programs and competitions for students from elementary school through post-graduate studies. More than 250,000 students participate in nine RoboNation competitions and programs each year. The DSEC-supported project will introduce RoboNation's SeaPerch program, an underwater remotely operated vehicle (ROV) program, to three military-connected communities in Louisiana and Texas; and foster partnerships among the communities surrounding Fort Polk, Fort Hood and Joint Base, San Antonio. SeaPerch teams design and build ROVs with an eye toward learning how to work together toward a common goal, building a community of peers and ultimately competing against other SeaPerch teams in local, regional, and international competitions.