16 Nov 2023
Junior Innovators Challenge Showcases Forward-Thinking Research by Middle School Students
Five middle school students took home awards totaling $65,000 at DoD STEM partner Society for Science's STEM competition, held in partnership with Thermo Fisher Scientific.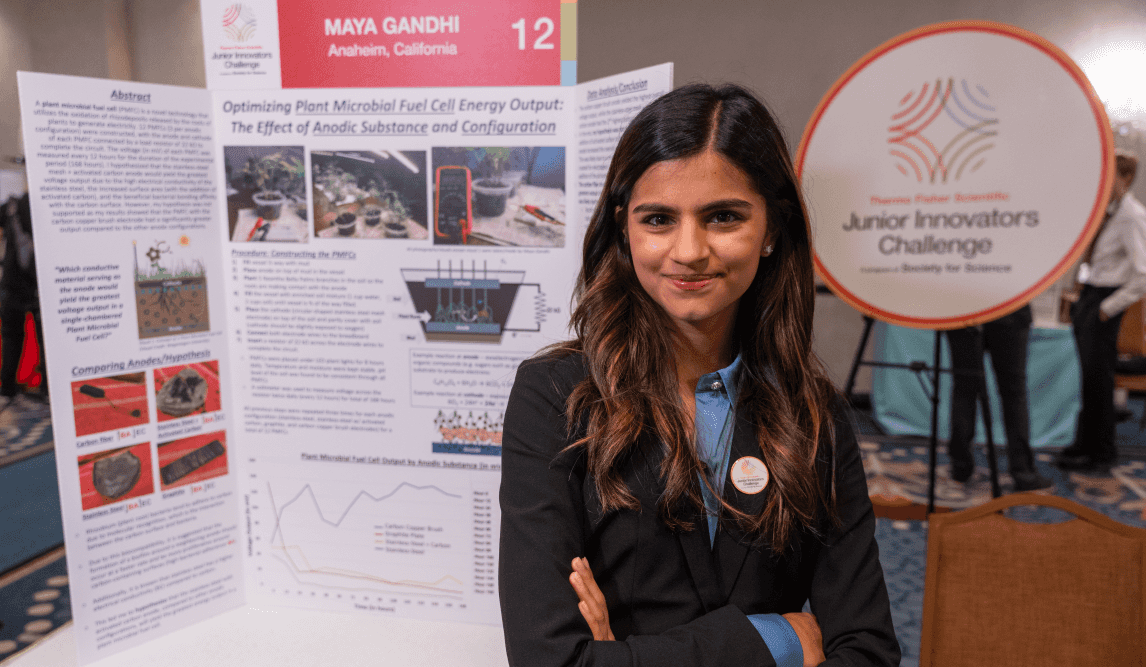 Maya Gandhi, DoD STEM Talent Award Winner at the Thermo Fisher Scientific Junior Innovators Challenge in Washington, DC. Photo courtesy of Lisa Frykund/Society for Science.
Fourteen-year-old Maya Gandhi from Anaheim, California, went the distance in the Thermo Fisher Scientific Junior Innovators Challenge (JIC), a program of Society for Science. Her research into generating electricity from living plants and microbes earned her $10,000 as the DoD STEM Talent Award Winner on November 1, 2023. Gandhi and 65,000 other middle school students followed their passion for STEM by entering the competition, which seeks to nurture young minds as they traverse a path of STEM discovery.
"I am so humbled and honored to have received the DoD STEM Talent Award at the Thermo Fisher Scientific Junior Innovators Competition. It was a remarkable experience, and I am excited to have met so many talented peers, as well as many inspirational scientists and leaders in the world of STEM," said Gandhi. "I believe efforts to create green, renewable energy sources are crucial for the future of our environment. I am inspired to continue my research and explore not only plant microbial fuel cells but also other methods of clean energy production that do not harm the conditions of our environment. The award has further motivated me to continue my efforts and expand my STEM knowledge to help combat the climate crisis and protect the future of our planet."
Top awardees at the Thermo Fisher Scientific Junior Innovators Competition in Washington, DC. Photos courtesy of Lisa Frykund/Society for Science.
Following are more details about the top awardees, chosen from a field of 30 finalists. View more details about Society for Science, Thermo Fisher Scientific, and the Junior Innovators Challenge.
Shanya Gill (12, from San Jose, California) won the $25,000 ASCEND Award for her project designing a fire detection system, and for the leadership, collaboration, and critical thinking skills she demonstrated through the course of her research project and Finals Week challenges.
Keshvee Sekhda (14, from Sugar Hill, Georgia) won the $10,000 Broadcom Coding with Commitment™ Award for combining coding with STEM knowledge to create a solution that improves one's community and aligns with the United Nations' 17 Sustainable Development Goals. Keshvee and her teammate Nyambura Sallinen developed a smartphone app called IdentiCan to identify breast, lung, and skin cancers. It uses photos or health scans, sound clips, and personal health information to predict diagnoses.
Maya Gandhi (14, from Anaheim, California) won the $10,000 DoD STEM Talent Award for demonstrating excellence in science, technology, engineering, or math, along with the leadership and technical skills necessary to excel in the 21st century STEM workforce and build a better community for tomorrow. Maya explored different substances to boost energy output of plant microbial fuel cells, which generate electricity using living plants and microbes.
Adyant Bhavsar (13, from San Jose, California) won the $10,000 Lemelson Award for Invention, awarded by the Lemelson Foundation to a young inventor creating promising product-based solutions to real-world problems. Adyant created a low-cost, eco-friendly version of a triboelectric nanogenerator. This device generates electricity by using mechanical energy to create a "triboelectric" effect between two surfaces that touch and then separate, producing a current.
Elizabeth (Ellie Lou) Olvera (13, from Goleta, California) won the $10,000 Robert Wood Johnson Foundation Award for Health Advancement, which recognizes the student whose work and performance show the most promise in health-related fields and demonstrate an understanding of the many social factors that affect health. Ellie Lou identified an eco-friendly fabric suitable for creating affordable and reusable menstrual pads.
DoD STEM salutes these young innovators, like Maya Gandhi, and their achievements. Our nation's security and strength heavily relies on professionals who possess exemplary STEM skills.
Louie Lopez, Director, DoD STEM
About DoD STEM and Defense STEM Education Consortium
Defense STEM Education Consortium (DSEC) is a collaborative partnership of STEM-focused organizations dedicated to addressing and prioritizing our nation's STEM talent. DSEC aims to broaden STEM literacy and develop a diverse and agile workforce with the technical excellence to defend our nation. Through strategic investment in STEM education and outreach activities, the effort will provide students with more exposure to educational and career opportunities as well as DoD research. DSEC is led on behalf of DoD STEM by RTI International.
About Society for Science
Based in Washington, DC, the Society for Science (Society) has been a champion for science since 1921, dedicated to expanding scientific literacy, effective STEM education, and scientific research. The Society is known for award-winning journalism, world class science research competitions, and outreach and equity programming. Learn more about Society for Science Advocate Program.