18 Oct 2023
Jennifer Nilvo, a DoD STEM Ambassador, Share Resources That Connect Students to STEM Research
Journalist E. W. Scripps and zoologist William Ritter developed the Science News learning platform to provide credible resources to increase STEM literacy. The Society for Science website has digital archives going back 100 years to help engage students in science through compelling articles, activities, and networks that will help support new generations of STEM problem-solvers and innovators.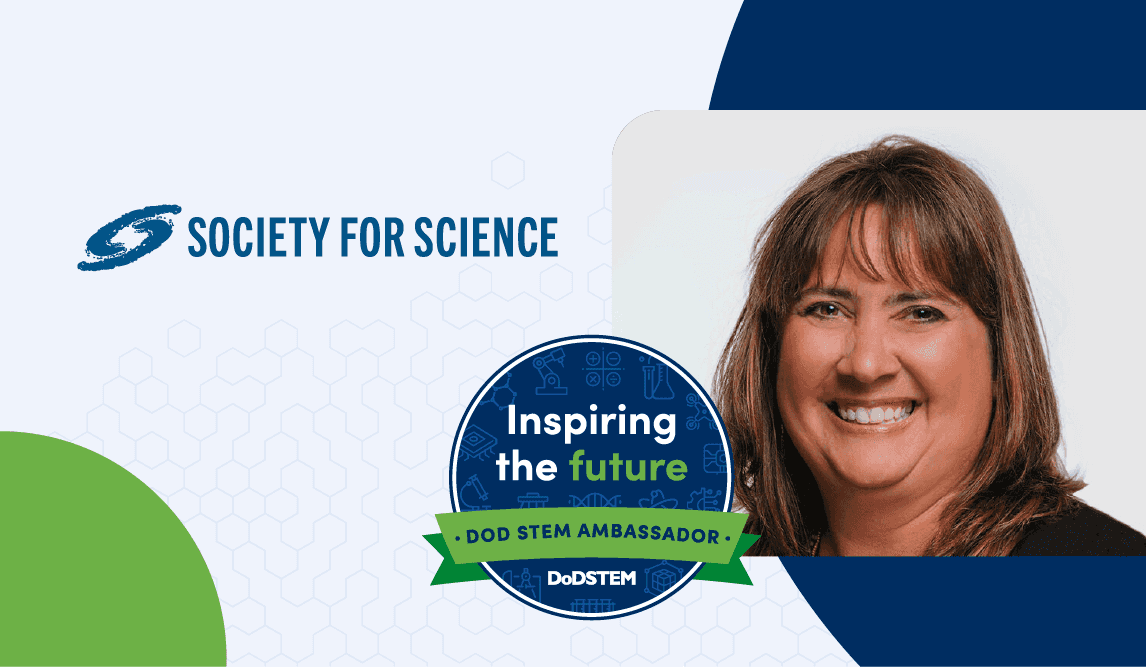 The following was written by Jennifer Nilvo, a K-12 STEM research teacher and DoD STEM Ambassador. DoD STEM Ambassadors work with the Defense STEM Education Consortium (DSEC) to advance STEM outreach for students who are underrepresented in STEM or military connected. Nilvo was selected by Society for Science, a DSEC partner, as its DoD STEM ambassador for the 2022-2023 school year.
In today's world, STEM literacy has become increasingly important. STEM—which stands for Science, Technology, Engineering, and Mathematics—encompasses a wide range of fields and disciplines. STEM literacy is the ability to understand and apply concepts from these areas in everyday life. However, STEM literacy is not limited to technical skills, for reading is an essential component of STEM literacy. STEM literacy skills are essential for students to attain STEM degrees and succeed in future STEM careers.
The National Research Council defines STEM literacy as the "ability to use evidence and data to evaluate the quality of science information and arguments put forth by scientists and in the media" (NRC, 1996).
The American Association for the Advancement in Science, Project 2061, defined scientific literacy as "the capacity to use scientific knowledge to identify questions and to draw evidence-based conclusions in order to understand and help make decisions about the natural world and the changes made to it through human activity" (AAAS, 1993).
The Vision and Change Report argued that, for students to be scientifically literate, they "should be competent in communication and collaboration, as well as have a certain level of quantitative competency, and a basic ability to understand and interpret data" (AAAS, 2011).
In 2021 the National Science Board released the Elementary and Secondary STEM Education report showing the United States trailing many global competitors in STEM education: in mathematical literacy the U.S. ranked 25th out of 37 countries; in science literacy, a lowly 7th out of 37. Without a much stronger science and engineering workforce, it will be difficult for the U.S. to compete globally.
STEM literacy is important for several reasons. First, it provides access to information. Reading is a fundamental way to access information about STEM subjects. It allows individuals to gain knowledge about scientific discoveries, engineering advancements, and technological innovations, which are all essential to stay up to date and make informed decisions. Reading STEM literature also exposes individuals to new vocabulary and technical terms, helping to build their STEM vocabulary. This can help individuals understand complex STEM concepts and communicate effectively with others in the field.
Second, STEM literacy is essential for career success. Reading STEM literature can help individuals develop scientific literacy, which includes the ability to understand scientific concepts, evaluate evidence, and apply scientific knowledge to make informed decisions. Today's job market evolves rapidly, with many of the fastest-growing fields requiring STEM skills. By developing STEM literacy, individuals can pursue careers in fields such as software development, biotechnology, and engineering, which offer high-paying jobs and opportunities for growth and advancement.
STEM literacy also promotes innovation and creativity. Reading about scientific discoveries and technological advancements can inspire individuals to think creatively and come up with new solutions to existing problems. By understanding the underlying principles of STEM fields, individuals can develop innovative solutions to complex problems. This is particularly important in today's world, where global challenges such as climate change and health care require innovative approaches and solutions.
STEM literacy also fosters critical thinking skills. Reading STEM literature requires critical thinking skills, as individuals must analyze and evaluate complex information. It helps individuals develop critical thinking skills, enabling them to apply these skills and solve problems in their own lives. STEM fields are built on the foundation of scientific inquiry, which requires critical thinking, analysis, and problem-solving. By developing these skills through STEM literacy, individuals can apply them to other areas of their lives, enabling them to make better decisions and solve problems more effectively.
It also helps us make informed decisions. As technology advances and becomes more integrated into our lives, we are faced with more complex decisions that require knowledge of STEM fields. From choosing the best health care options to deciding on the most energy-efficient home appliances, STEM literacy enables us to make informed decisions that benefit us and our communities.
Finally, STEM literacy promotes lifelong learning. The world is constantly changing and STEM fields are at the forefront of this change. By developing STEM literacy, individuals can stay informed about new technologies, advancements, and research, enabling them to adapt and thrive in an ever-changing world. It also encourages individuals to seek out new information and knowledge, leading to personal growth and development.
STEM fields are constantly evolving, and it's essential to encourage students to continue learning and growing in their STEM knowledge. Below are ways to ensure that students have the necessary STEM literacy skills to prepare them for 21st century success.
Encourage students to read STEM-related literature such as Science News Learning, which includes Next Generation Science Standards (NGSS)–aligned lesson plans that highlight core curricular STEM content covered in the article, generally within a comprehensive Q&A section. They also identify the cross-curricular nature of the research and any cross-cutting concepts with discussion prompts and answers. Plus, the STEM articles include inquiry-based activities with a range of hands-on, authentic learning experiences for students such as debates, data dives, diagramming, engineering design, wet labs, and more.
Knowing how to find and use credible information sources like peer-reviewed and scholarly articles for STEM learning is important in my STEM research classes, even for my youngest in 4th grade. When done within the classroom, students can put into practice critical reading strategies (such as those developed by AVID) where they identify key information, new terms or vocabulary, and make connections to other ideas and knowledge.
Another way to increase STEM literacy and research competency is to involve students in STEM competitions. They will have to become a "content expert" in their field of study—increasing their skills in reading, vocabulary, critical thinking, pulling important information, connecting what they read to their own research, correlating data they and others have collected, discussing content, and making conclusions about their findings. Excellent competitions to improve STEM literacy include Society for Science competitions such as the Regeneron International Science and Engineering Fair; the Thermo Fisher Scientific Junior Innovators Challenge, the Regeneron Science Talent Search, plus local ISEF-affiliated fairs. Others include the Junior Science and Humanities Symposium (a DoD-sponsored event), Junior Academy of Science-affiliated state competitions, BioGenius and state Governor's STEM Challenges, to name a few.
Through my STEM research program, students can read about past research, ask a new question and create a problem statement, conduct a research study, do data diving (data science) to look for patterns and trends not yet evaluated, fill in gaps in already completed research, and then back their results through discussions of their findings to others before them—all because of STEM literacy.
Strong STEM literacy skills will drive students to solve societal problems through research and inquiry in specific STEM topics, to look at relevant problems in the human and natural worlds around us, and to start coming up with solutions to test, design, and solve.
In conclusion, ensuring that students have the necessary STEM literacy skills to prepare them for STEM degrees and jobs in the future is essential. It helps build vocabulary, improves critical thinking, develops scientific literacy, encourages innovation, and promotes lifelong learning. By developing STEM literacy, individuals can make informed decisions, pursue lucrative careers, and promote innovation and creativity. STEM literacy is not just important for individuals but also for communities and societies as a whole. As we move forward into the future, STEM literacy will continue to play a critical role in shaping our world and solving the challenges we face.
About DoD STEM and Defense STEM Education Consortium
Defense STEM Education Consortium (DSEC) is a collaborative partnership of STEM-focused organizations dedicated to addressing and prioritizing our nation's STEM talent. DSEC aims to broaden STEM literacy and develop a diverse and agile workforce with the technical excellence to defend our nation. Through strategic investment in STEM education and outreach activities, the effort will provide students with more exposure to educational and career opportunities as well as DoD research. DSEC is led on behalf of DoD STEM by RTI International.
About Society for Science
Based in Washington, DC, the Society for Science (Society) has been a champion for science since 1921, dedicated to expanding scientific literacy, effective STEM education, and scientific research. The Society is known for award-winning journalism, world class science research competitions, and outreach and equity programming. Learn more about Society for Science Advocate Program.