20 Mar 2023
STEM Professionals Share Valuable Lessons on Expanding Access and Equity
More than 400 STEM professionals from education, government, and industry met in Washington, DC, February 23–24, 2023, at the DoD STEM Technical Exchange to share promising educational programs and activities that push STEM education to higher levels while expanding availability and access to groups traditionally underrepresented in STEM.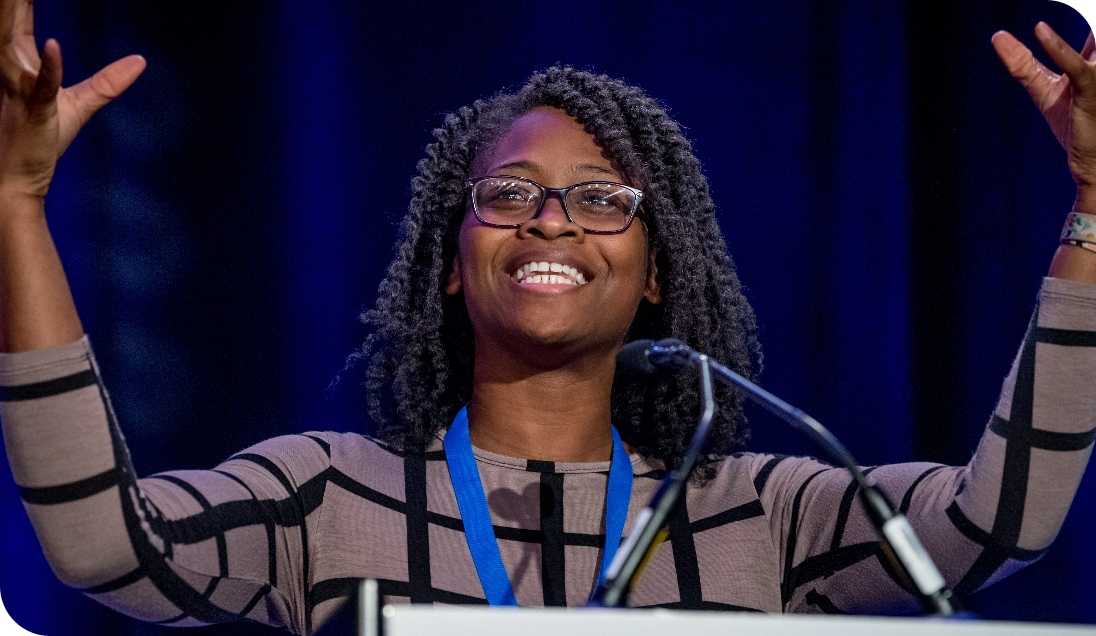 Veronica Seward speaks about her experiences as a DoD STEM Ambassador.
To help meet a future where STEM skills such as critical thinking, creativity, analysis, collaboration and problem-solving will become even more important for national security, DoD STEM convened more than 400 STEM professionals in Washington, DC, at the first DoD STEM Technical Exchange titled "Leverage for Impact." The Technical Exchange provided an opportunity for education, government, and industry representatives to share promising programs and activities suitable for expanding high-quality STEM education to demographic groups and locales that traditionally haven't benefitted from focused STEM outreach.
People are really excited to hear what other organizations within the DoD STEM community are doing and exchanging ideas. The more we collaborate in this space the more that our schools, teachers and students eventually benefit.
Louie Lopez, DoD STEM Director
"The DoD STEM Technical Exchange was so exciting and I'm so glad I took the time to attend because of the word exchange. This wasn't a symposium nor a series of lectures to listen to from people who are far away," said Erica Bertoli, team lead, Workforce and Community Outreach, U.S. Army DEVCOM, C5ISR Center. "This was an opportunity to learn from people who have 'boots on the ground,' people who are professionals and practitioners with specific experience. It was wonderful to be able to share lessons learned and things that worked or didn't work. There was such a sense of camaraderie and community, and that it's OK to come at it from different places and approaches, because we're all here for the kids. We're all here for the future."
DoD STEM Technical Exchange attendees participate in a hands-on STEM learning activity.
Louie Lopez, DoD STEM Director, moderates the Leveraging Federal STEM Priorities panel discussion.
The DoD STEM Technical Exchange included poster sessions, informal and structured networking, working sessions and speakers ranging from DoD leadership to educational partners to students who have greatly benefitted from DoD STEM–supported programs, including Tobius Nance, a junior at the University of Maryland, College Park, who is studying information sciences and cybersecurity, a mission-critical DoD STEM career pathway. Nance says that he learned about DoD civilian careers just before graduating high school while competing in a DoD STEM–supported robotics program.
While introducing Nance, Dr. Kevin Peters, director of the Center for Excellence in Mathematics and Science at Morgan State University said, "The work we are all engaged in across the country is essential to ensuring that every student in every zip code has the opportunity to fully participate in the prosperity of our country and to contribute to the vital needs of our national and economic security now and into the future."
A dynamic panel discussion featured partners from each step of Nance's journey who outlined how their coordinated efforts as part of a Baltimore-area STEM ecosystem led to his deeper involvement and understanding of opportunities available to him after graduation. These connections led to internships at Northrop Grumman and the Army Research Laboratory in Adelphi, Maryland.
University of Maryland, College Park, student Tobius Nance addresses the audience at the DoD STEM Technical Exchange.
Ms. Heidi Shyu, Under Secretary of Defense for Research and Engineering (OUSD(R&E)), welcomes participants to the DoD STEM Technical Exchange.
"There's no single definition of what it means to be in a partnership in this work. It can mean learning together; it can mean sharing best practices so that no one has to reinvent the wheel — something that is all too common in education. It can mean actually rolling up our sleeves and delivering programming together," said Dr. Rebecca Stanley, chair for the Defense STEM Education Consortium, during opening remarks. "It can mean building intentional handoffs for students as they move through the K–16 STEM pathways that exist in so many communities. It can mean holding ourselves accountable to shared metrics and rigorous program evaluation. It can mean adopting a shared vision and mission."
A broad range of sessions were offered to participants across five key topics:
DoD Critical Technology Areas
Equity in STEM
Developing STEM Mindsets
Pathways for Access
STEM Program Evaluation
DoD STEM Technical Exchange attendees participate in a hands-on STEM learning activity.
DoD STEM Technical Exchange attendees participate in a hands-on STEM learning activity.
Kate Kogge, STEM program manager contracted to the the Air Force Office of Scientific Research shared, "It was such an eye-opening experience to learn what other agencies and programs are doing and how they intersect with one another in one way, shape or form. We all have the same objective: to improve student education and create an amazing educational resource for our country. Having something like a tech exchange brings us all together and reminds us of the importance of the work we do and how we can work together to make it really something memorable."
Friday's keynote speaker was Dr. Bindu Nair, deputy director for basic research with the Office of the Secretary of Defense, who said, "At the core of this work is talent. We would not have made advances in these fields without a diverse S&T [science and technology] talent base drawing from various academic backgrounds and cultures — some of it organically developed in the U.S., some of it contributed by the international community. Just as investing in basic research seeds the technology of the future, investing in today's students and educators ensures that the Department and the nation have access to a diverse, enduring workforce, and the world's most talented scientists and engineers, tomorrow. This is nothing less than a national security imperative."
DoD STEM Technical Exchange attendees participate in a hands-on STEM learning activity.
Critical Technology Areas Vital to National Security
Biotechnology
Quantum Science
Future Generation (FutureG) Wireless Technology
Advanced Materials
Trusted AI and Autonomy
Integrated Network Systems-of-Systems
Microelectronics
Space Technology
Renewable Energy Generation and Storage
Advanced Computing and Software
Human-Machine Interfaces
Directed Energy
Hypersonics
Integrated Sensing and Cybersecurity