12 Oct 2022
Kirsten Manning, a DoD STEM Ambassador, Shares Lessons Learned from the Classroom
Teaching rigorous subjects, like Advanced Placement (AP) Physics, isn't just about deriving formulas and memorizing concepts. It's about getting to know your students and developing a curriculum that is engaging and relevant to them. Students who are able to make connections with AP Physics content will go on to be confident and capable problem-solvers.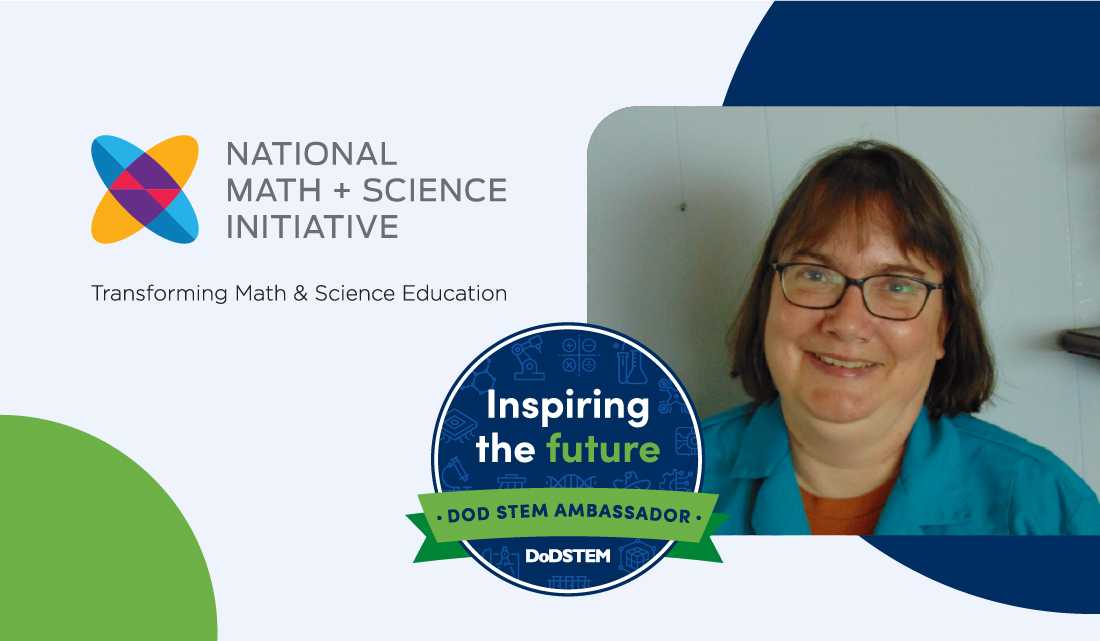 The following was written by Kirsten Manning, a high school science teacher and DoD STEM Ambassador. DoD STEM Ambassadors work with the Defense STEM Education Consortium (DSEC) to advance STEM outreach for students who are underrepresented in STEM and/or military connected. Manning was selected by the National Math and Science Initiative, a DSEC partner, as their DoD STEM ambassador for the 2021-2022 school year.
As soon as people discover that I am a classroom teacher they immediately ask me what I teach. When I tell them physics, reactions include abject horror with personal accounts of boredom, disinterest and failing grades. Their own high school physics experiences were obviously not pleasant and certainly something they would not willingly repeat.
My own experience with physics mirrored others', particularly in college. I was usually the only female student in a class of 40 or more applied physics majors. The white, male physics professor wearing the long, intimidating lab coat spoke only to the chalkboard as he derived equation after meaningless equation. I was frequently left to my own devices to dig into material from the textbook written during my father's college era: the 1960s. I found reading about physics just as meaningless as my professor's lectures. Nevertheless, I trudged on trying to convince myself and others that I was the smartest person in the room.
One day I walked into my first science methods class and realized my world was about to change. This class taught me what it meant to be a teacher, and I can remember that day like it was yesterday. Twenty-five emerging science teachers were waiting for class to start. I was feeling arrogant because I was the only one majoring in physics education — certainly the best and most challenging of all science disciplines. I knew things about science that others did not know or, dare I say, could never possibly know! I had to be the absolute best in the education field!
Then the science education professor walked in and announced, "You do not teach physics." "Yeah," I thought to myself, "a lot he knows!" He continued, "You do not teach chemistry, or biology." My reaction: "Is this guy even in the right classroom? We are all science teachers. What does he think we teach?" And then he came out with it: "You teach students. You teach students about physics, chemistry and biology." I felt like someone had hit me with a brick bat and I was two inches tall. "Okay, professor, message received."
Fast-forward 30 years: my passion is teaching high school students about physics and engineering. My struggles with plugging numbers into equations have been replaced with focusing on how to make connections with all of my students, to help them see their own potential and become their best selves. Physics topics are no longer the meaning behind my teaching, but they are the vehicles I use to help students become capable and confident young adults stepping out into the world.
I have had many more defining moments in my teaching career — all with a similar theme:
Take time to get to know your students
Relationships with students are important
Find what students' interests are, and build upon that
Make learning fun and meaningful
Meet students where they are at
My goal is to show students that there is a physics lesson in practically everything they enjoy and do. From special lighting effects during stage performances to perfecting a three-point shot to beat the buzzer, my students are experiencing real-world applications of physics topics.
I continue to find new ways to make connections with my physics students. This year, I implemented a multiple-pathways approach in AP Physics. Students who showed mastery in a particular concept were sent down one pathway while others who struggled with the concept were given a different method for learning. I don't know what effect this will have on AP exam scores yet, but the dropout rate for AP Physics in my school was greatly reduced this year. Students showed pride in their ability to complete such a rigorous course and appeared eager to meet more challenges like this next year.
Many years ago I had a vision that I would teach physics. I would stand at the front of the classroom in an intimidating lab coat and share my vast knowledge with young, bright minds eager to understand physics. During my 30-year career, I've learned so much about how to help students work toward their goals and gain new knowledge, behaviors and skills. From that one defining moment in college so long ago, I am thrilled to now understand that teaching physics is so much more than memorizing equations and concepts and thinking I'm the smartest person in the room.
About DoD STEM and Defense STEM Education Consortium
Defense STEM Education Consortium (DSEC) is a collaborative partnership of STEM-focused organizations dedicated to addressing and prioritizing our nation's STEM talent. DSEC aims to broaden STEM literacy and develop a diverse and agile workforce with the technical excellence to defend our nation. Through strategic investment in STEM education and outreach activities, the effort will provide students with more exposure to educational and career opportunities as well as DoD research. DSEC is led on behalf of DoD STEM by RTI International.
About National Math + Science Initiative
The National Math + Science Initiative (NMSI) works to expand access to challenging coursework and improve student achievement through proven programs that consistently produce measurable and lasting results. NMSI partners with schools and districts nationwide to provide extraordinary training, support, and resources for teachers and students. NMSI's College Readiness Program for Military Families provides military-connected students with well-trained teachers, challenging AP coursework and a strong foundation in STEM subjects that will prepare them for the rigors of college and career, whether military or civilian. For more information visit nms.org