29 Nov 2022
Partnerships Expand STEM Education and Outreach to Native American Communities
In observance of National Native American Heritage Month, DoD STEM highlights two programs supported by the National Defense Education Program (NDEP) that serve Native American communities.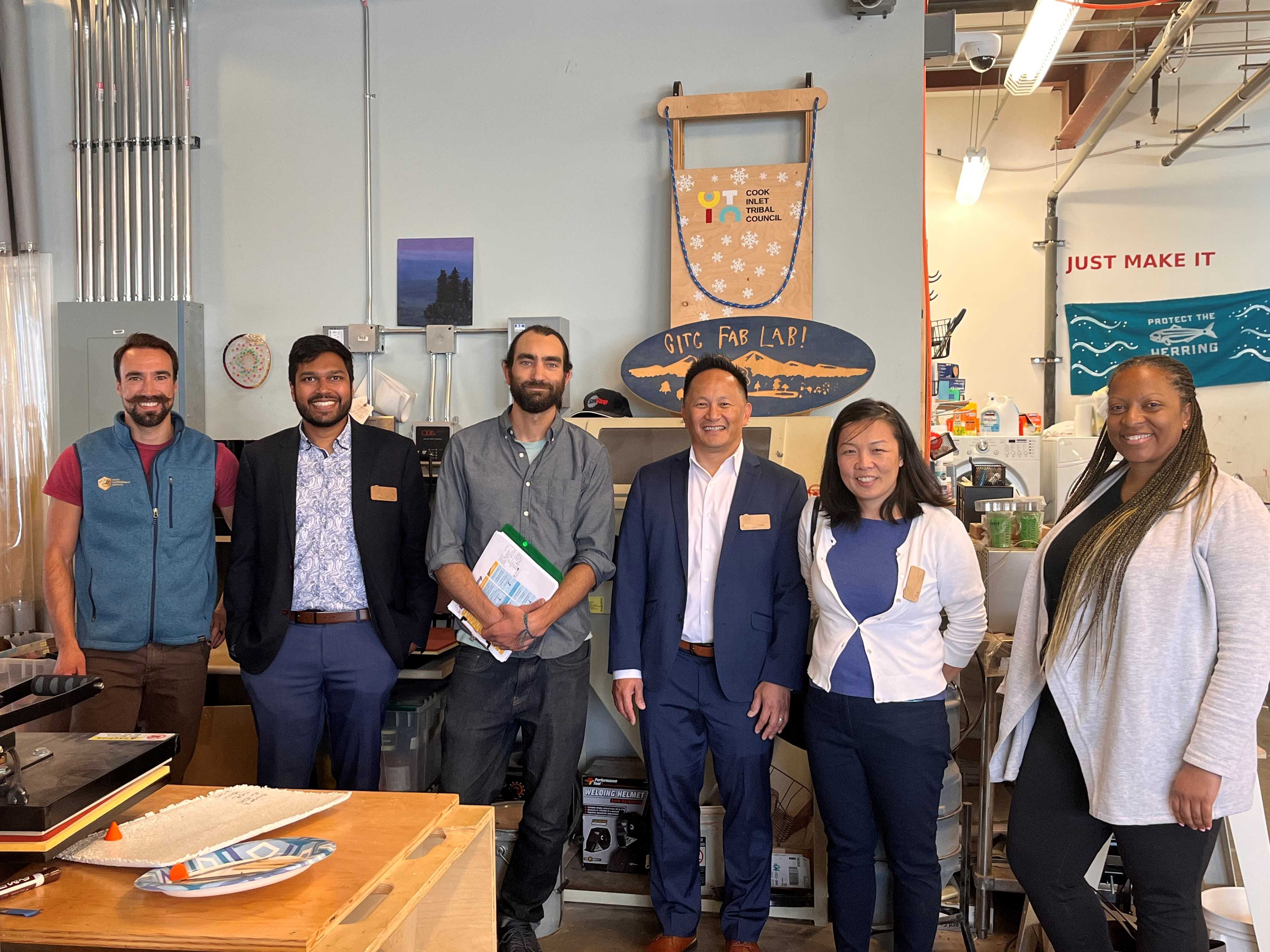 DoD STEM staff visit the Cook Inlet Tribal Council's Fab Lab.
The National Defense Education Program (NDEP) STEM Education and Outreach grant program was created by Congress to better position the current and future STEM workforce by establishing partnerships with academia and industry partners. Collaborative partnerships are critical to the Department and our Nation's security and serve to increase participation among traditionally or historically underserved and underrepresented populations in STEM.
It is critical to reach students in these demographics and encourage participation throughout the continuum of education to career opportunities, from Pre-K through post-secondary and into the workforce. DoD STEM programs feature innovative approaches to STEM education and outreach and seek to raise awareness about the Department's STEM career pathways. Following are two programs designed to serve Native American communities:
Cook Inlet Tribal Council
The Cook Inlet Tribal Council (CITC) has served as a community leader in the Anchorage, Alaska region since 1983. CITC assists native peoples of the Cook Inlet with a vast array of programs, including career training, child services, and medical services. CITC programs serve more than 20,000 people each year and employs more than 400 members of the Native population.
One aspect CITC's DoD STEM-funded grant award is the continued support of a fabrication laboratory, also known as a "fab lab." The CITC Fab Lab is known as a "place where ideas come to life, and where you will find creativity, connection, and culture." CTIC provides opportunities for students of all ages to manufacture innovative designs through creative exploration and experimentation. The work done at the fab lab upholds native culture, as is evident by student designs displayed throughout the facility.
DoD STEM's American Association for the Advancement of Science (AAAS) Science & Technology Policy Fellow Dr. Sithira Ratnayaka had the opportunity to visit the CITC Fab Lab in summer 2022 and shared: "My experience at CITC was amazing. The moment we walked in it was evident that everyone here had deep respect not only for each other, but each other's cultural heritage and background. All projects were centered around making things that were culturally significant to the people of the Cook Inlet, such as sieves for berry picking, sleds for transportation, and pendants for personal decoration. The decision on what to make is entirely up to the students, and thus has resulted in a great sense of ownership for the participants. In addition, the fab lab allows students to explore and harbor their interests in STEM careers like engineering by partnering with local schools and businesses."
Navigate the Future
The Combat Capabilities Development Command (DEVCOM) Army Research Laboratory (ARL) is helping strengthen and advance high school STEM curriculums and build a foundation in STEM literacy through their Navigate the Future Program. This summer high-school program serves students in Montezuma Creek, Utah, and is designed to inspire them to continue their STEM studies and eventually choose a STEM career path. The Navigate the Future program fosters a STEM ecosystem comprised of Tribal colleges and universities, K-12 schools, educators, and ARL. Topics offered by Navigate the Future include computational and biotechnology sciences, which are rarely available in Tribal high schools. Proficiency in these technical areas lay the groundwork for students academically, and provide skills aligned to various DoD Critical Technology Areas, such as biotechnology and cyber. These opportunities also provide a stepping-stone to career paths within these disciplines.
In July 2022, Navigate the Future hosted its first graduation ceremony. In addition to receiving completion certificates, students presented STEM-related projects developed during the program. Mr. Aaron Yazzie, a Navajo Nation member and NASA mechanical engineer provided keynote remarks. The program has garnered widespread community support and will welcome more students in the coming school year.
CITC and Navigate the Future are only two programs supported by DoD STEM that are dedicated to serving Native populations. The DoD prioritizes cross-collaboration partnerships beyond our current STEM ecosystem and seeks to expand STEM outreach to underrepresented and underserved populations, including Native Americans, Native Hawaiians, and Native Alaskans.
For information about CITC, visit citci.org
To learn more about the CITC Fab Lab, visit sites.google.com/view/akfablab/home