21 Sep 2023
Tim Carey, a DoD STEM Ambassador, Makes the Case for Robotics Programs for Elementary Students
Robotics is a powerful platform for empowering students with the skills needed to pursue STEM careers. Elementary school teachers can be intimidated by the idea of designing, building, and coding robots. We know they can find success with some robots and a lot of community support!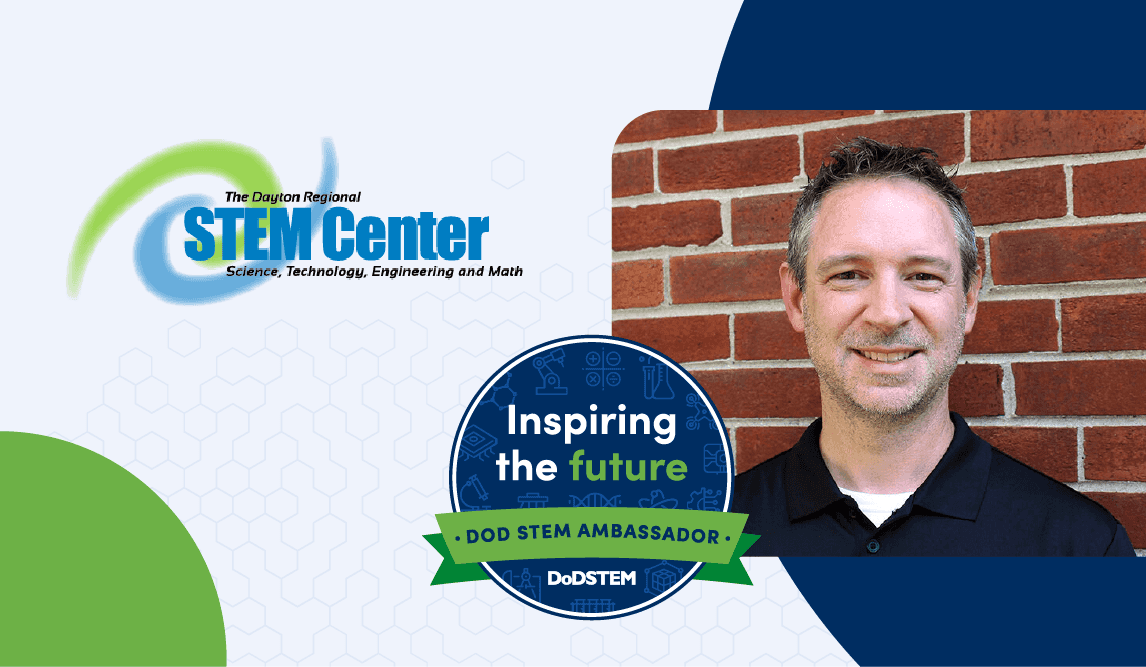 The following was written by Tim Carey, an elementary math teacher and DoD STEM Ambassador. DoD STEM Ambassadors work with the Defense STEM Education Consortium (DSEC) to advance STEM outreach for students who are underrepresented in STEM or military connected. Carey was selected by the Dayton Regional STEM Center, a DSEC Partner, as its DoD STEM ambassador for the 2022-2023 school year.
When young children are asked "What do you want to be when you grow up?" how many mention STEM careers? Not many, I bet. Children want to be something they have heard of or have experienced positively. Our job as educators is to create those experiences for students, and to help them believe in themselves and dream big! As an early childhood educator, I have taken every opportunity to bring robots into my classrooms. I started just because it was fun for me and for the kids. That alone made it worth it to me, but soon I started seeing other benefits as well.
Why Robots?
Young students are fascinated by even the simplest robots, and research shows that working with robots can teach students important lessons. Working with robots builds soft skills that so many employers are looking for:
Creativity
Problem-solving skills
Patience
Persistence
Collaboration
Computational thinking
Early childhood robotics programs are also equitable and inclusive. Too many girls and students of color are left out of robotics programs in later years. Starting a robotics program early allows all students to build these skills, regardless of gender, race, ethnicity, or background.
The Problem
Many elementary school teachers do not have backgrounds in technology, robotics, or computer science, so the thought of engaging students in robotics can be scary. In our university classes, we study reading strategies, child psychology, and how to write lesson plans. We do not take classes on computer science or engineering. It is daunting to teach something new, where we have the potential to fail miserably and where we may not know more than the 5-to-7-year-old students in front of us. So we plan another cute reading lesson instead.
There are so many expectations about literacy and basic math skills that we do not have time to invest in learning new skills. Many states—maybe all of them—begin high-stakes testing of student reading and math skills in 3rd grade. These test results inform school report cards and teacher evaluations, and are held up by the community as the standard for success. So we look for a new math game to teach basic skills.
Plus, robots are expensive, especially the good ones. When districts cut funding for art and music programs, leaving us to fend for ourselves in many ways, it is hard to find funds for robotics programs. So we go to websites where we can spend a few dollars on a fun writing activity.
The Solution
On behalf of elementary school teachers and students everywhere, I am asking for your help in bringing more robots to young students. If you are reading this blog post, I know that you value STEM education. You are likely in a STEM career yourself. Here are two ways you can get involved:
Contact your local elementary school. If they are already doing robotics, offer to help. You could help students build robots, write and debug code, and think of new solutions to the problems they are trying to solve. You could help teachers by sharing your expertise or by simply being another adult in the room. If they do not do anything with robotics, help them get started. There are many, many different robotics platforms and companies that kids could engage with: LEGO, VEX, KIBO, Sphero, Ozobot, and more. You can help your elementary school find funding to purchase robots. You could lead a training for teachers or run a robotics club or competition team after school. Your local elementary school may not know that you can help, so give them a call and get involved.
Spread the word. We work best when we work together. If you cannot get directly involved, help find someone who can. If you are able to run an after-school robotics club or competition team, bring more adult helpers with you so your team can include more kids. Talk to the school principal and superintendent and school board. Let them know the value of robotics. Share with your community. Post on social media. Spread the word.
Not every student needs to have a career in robotics, just like not everyone needs to go into computer science or law or medicine. Teaching young students about robotics, however, opens the doors to success, wherever their paths take them. So get involved and change some lives.
This quote by educator Kaitlyn Siu really encapsulates the benefits of early robotics education: "When children develop computational skills they are able to articulate a problem and think logically. It helps them to break down the issues at hand and predict what may happen in the future. It's helping them to explore cause and effect and analyze how their actions or the actions of others impact the given situation. These skills can have powerful impacts on children and how they manage their relationships with those around them" (Siu, 2022).
To learn more about the benefits of early robotics programs, visit Kinderlab Robotics.
About DoD STEM and Defense STEM Education Consortium
Defense STEM Education Consortium (DSEC) is a collaborative partnership of STEM-focused organizations dedicated to addressing and prioritizing our nation's STEM talent. DSEC aims to broaden STEM literacy and develop a diverse and agile workforce with the technical excellence to defend our nation. Through strategic investment in STEM education and outreach activities, the effort will provide students with more exposure to educational and career opportunities as well as DoD research. DSEC is led on behalf of DoD STEM by RTI International.
About Dayton Regional STEM Center
The Dayton Regional STEM Center (DRSC) coordinates an established network of regional institutions and professionals that provide rich opportunities for STEM education by training and supporting educators, designing curriculum aligned with workforce needs, training school leaders at the district and building level and supporting schools and program models committed to STEM teaching and learning. DRSC serves as a hub location for building pathways into STEM careers in defense installations, including Wright-Patterson Air Force Base in the Dayton, Ohio area.