The following was written by Genevieve Esmende, a math teacher and DoD STEM Ambassador. DoD STEM Ambassadors work with the Defense STEM Education Consortium (DSEC) to advance STEM outreach for students who are underrepresented in STEM and/or military connected. Esmende was selected by UC San Diego CREATE, a DSEC partner, as their DoD STEM ambassador for the 2020-2021 school year.
I first learned that Twitter is an excellent online community for math teachers during a presentation at the 2017 Park City Math Institute Teacher Leadership Program by Anna Blinstein and Julie Wright. Anna and Julie encouraged participants to check out Twitter—where a welcoming community of math educators worldwide were sharing activities, resources, ideas, feedback and encouragement via MathTwitterBlogOSphere (#MTBoS).
But it wasn't until I created my own Twitter account later that year that I truly realized the benefits of this type of online interaction. Organizers at the California Math Council (CMC) South Conference encouraged all Ignite Talk presenters (of which I was proud to be one!) to have a Twitter account so the audience could "live tweet" comments about our presentations and amplify our messages. I learned a lot during this conference and during subsequent years using Twitter, which has provided many professional development rewards and amazing connections!
Twitter has proven to be a great place to do the following, but not limited to:
Ask for support or ideas
Share experiences and gain ideas for the classroom
Share important information learned at conferences
Announce upcoming professional development opportunities
Support From the Twitter Community
One year I had a legally blind student in my classroom. I was nervous that I would not be able to provide the support he needed to access the math content. So, I posted this tweet:

I received many replies! Here is one exchange that stands out:
I was surprised how much support I received from the Twitter community! Many teachers quickly shared stories and advice for working with blind students, including suggestions for learning tools and resource links. As a direct result of this support and guidance, I gained confidence in my ability to work with this student! While he started that year avoiding fractions, percentages and decimals, I helped him overcome his apprehension through context. Soon he was able to visualize situations using some tools recommended via our Twitter exchanges and eventually verbally explain his way of thinking. By the end of the school year, this student could access and understand math in a way that made sense to him.
Share Experiences or Ideas
I love to learn about ideas and resources teachers use in their classroom. When I find an idea on Twitter that I want to go back to, I usually "like" it and bookmark it so I can find it later. I do wish there was a better way to organize liked or bookmarked tweets so it is easier to find specific tweets.
Many teachers share positive experiences and classroom challenges. I'm continually amazed at how Twitter is such a great place to support each other.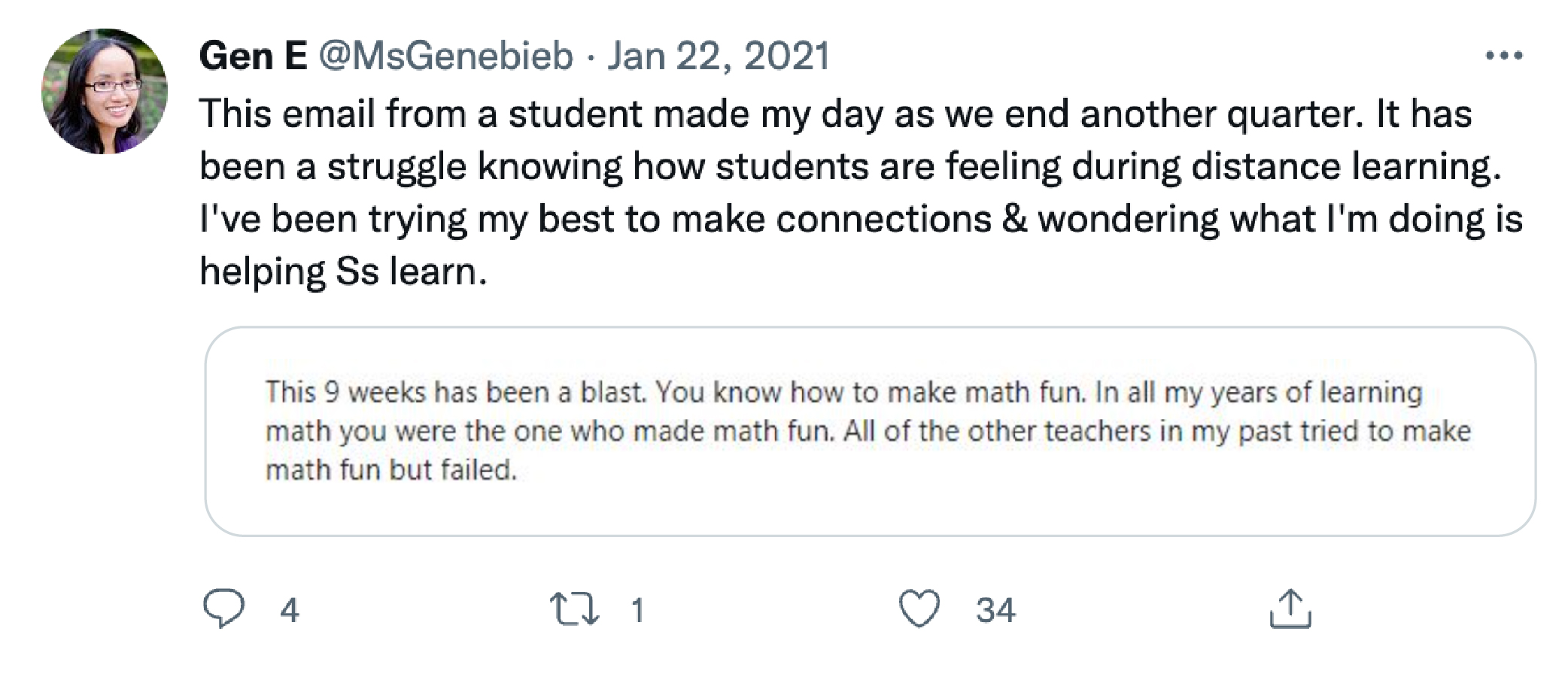 I shared this tweet with my online community after we had been distance learning for quite some time. This student's email surprised me, because while I knew he was struggling with math, he hung in there. I worked really hard to support him and didn't realize he was actually having fun! His email confirmed that my approach to distance learning must be working.
Attending Conferences Is More Fun
Attending conferences is so much more fun since I joined Twitter! First, I get to meet people I follow on Twitter in real life. Additionally, it's a great way to share all the amazing things I am learning at the conference. I can also see what others are learning—in real time—by scrolling through the items tagged with the conference hashtag.
Even though many conferences were virtual this past year due to the pandemic, I felt I could still connect with many educators through Twitter. Following is a tweet I shared at the 2020 CMC South Conference: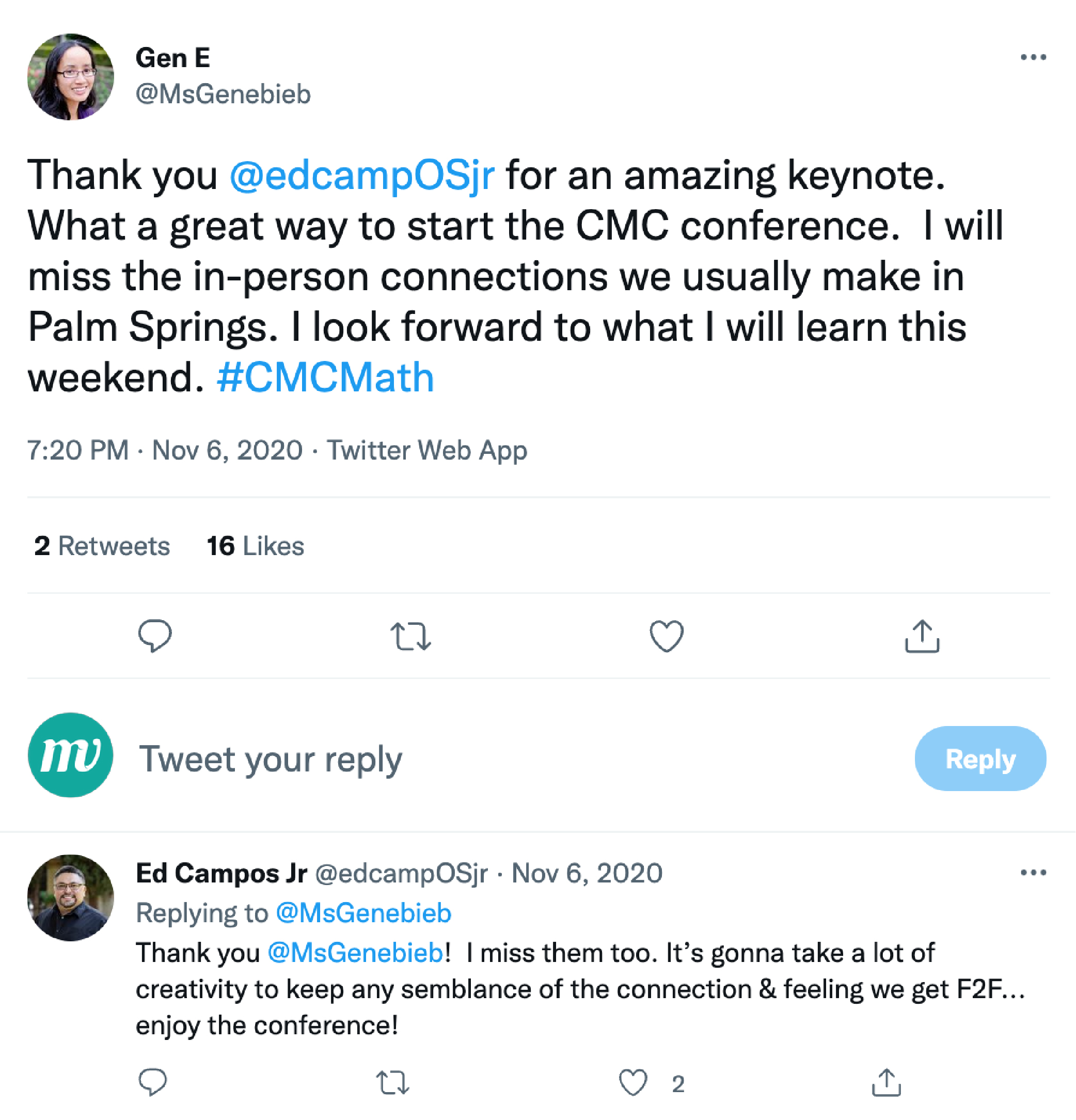 Publicize Upcoming Professional Development
I have found Twitter is the best way to share information quickly with a large audience. When I want to advertise a professional development opportunity, I share the details on Twitter and encourage everyone to retweet. My followers always come through!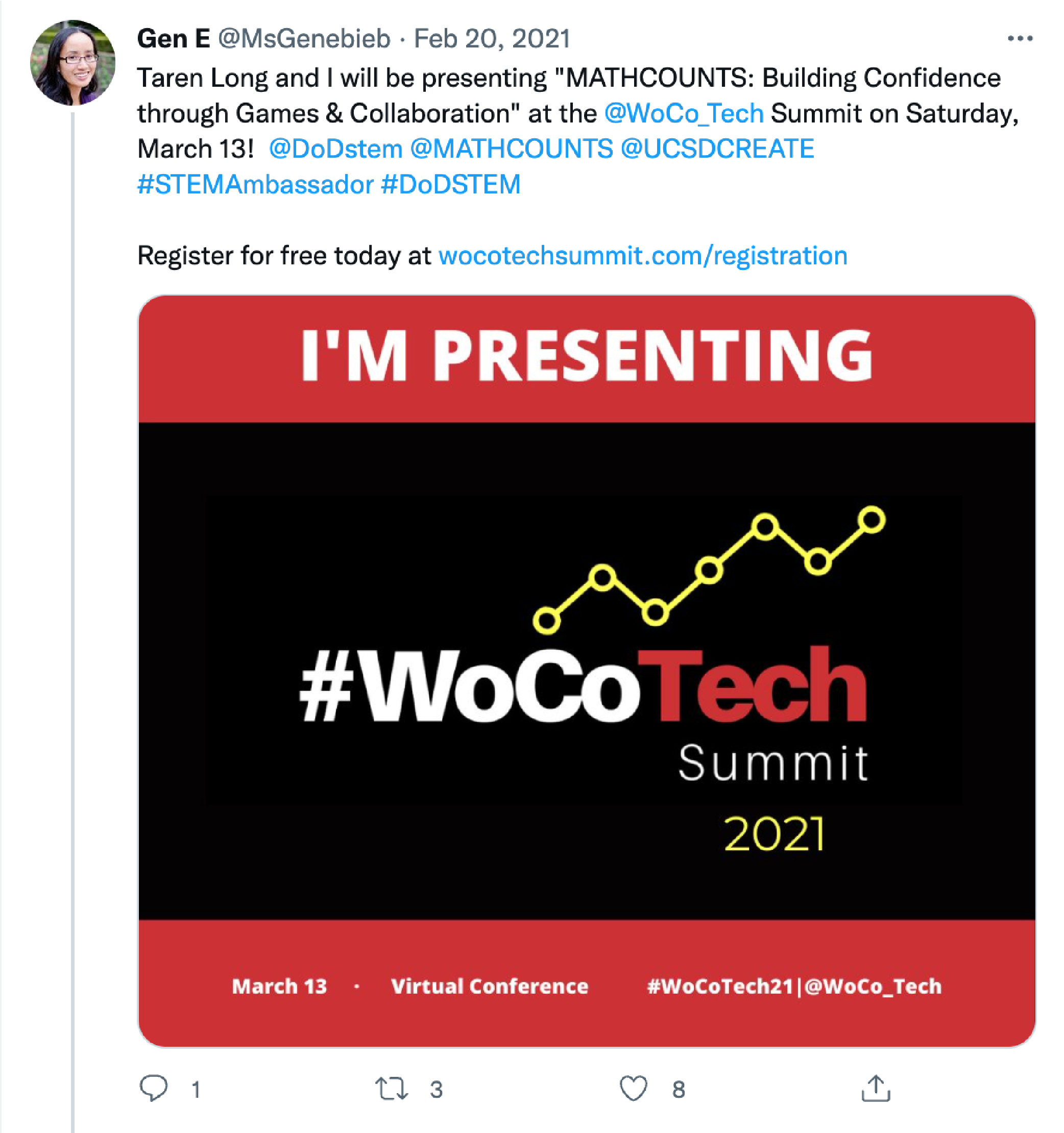 Hashtags and Organizations to Follow
If you are a STEM educator new to Twitter, following are some hashtags connected to DoD STEM: #STEM, #DoDSTEM, and #DoDInnovates. And here are the handles of some DoD STEM partner organizations: @SMART_DoD, @TGRFound, @RTI_Intl, @AIRInforms, @CGEST_ASU, @CEE1983, @cschools, @cyber_dot_org, @FIRSTweets, @LearningUNDFTD, @MATHCOUNTS, @MorganStateU, @NCWIT, @NMSI, @RobesonCC, @SDMiramarCollege, @spcnews, @Society4Science, @TIESTeach, @UCSDCREATE, @Education_AIR.
I hope this information encourages you to give Twitter a try if you are looking for different professional development opportunities or a community of supportive educators. Make sure to read Taren Long's blog post, Spreading Your Professional Wings With Twitter, where she outlines how to use Twitter for professional development in education. Or, if you are ready to use Twitter to develop third-party relationships to support for your classroom, check out Jonté Lee's blog post, Dear Entrepreneurial Teacher: You Are Not Alone.
ABOUT GENEVIEVE ESMENDE
Genevieve Esmende began her teaching career with the San Diego Unified School District in 2000 after receiving a BA in Applied Mathematics with a teacher education minor from the University of California (UC), San Diego. Genevieve taught elementary school before becoming a middle school math teacher in 2003. She shares her love of math with students outside of the classroom by working with Math for America San Diego, Park City Math Institute, Teacher Math Circles, and the UC San Diego Math Project.
ABOUT UC SAN DIEGO CREATE
UC San Diego Center for Research on Educational Equity, Assessment & Teaching Excellence (CREATE) works with its campus colleagues and graduate and undergraduate students to leverage their work and energy to engage K–12 students in opportunities to learn. Some outreach programs also support community college students or teachers. UC San Diego CREATE's role in the Defense STEM Education Consortium (DSEC) is to build bridges between DSEC partners, DoD laboratories, and its considerable education network in the greater San Diego area. For more information, visit https://create.ucsd.edu/.