30 May 2023
Lisa Blank, a DoD STEM Ambassador, shares about the importance of artificial intelligence in K-12 education
Computing systems, including artificial intelligence, are impacting our world at an ever-more rapid pace, compelling K–12 institutions to educate students well beyond the basic use of technologies as a learning tool. Awareness and understanding of the bidirectional impact of technologies on society is essential.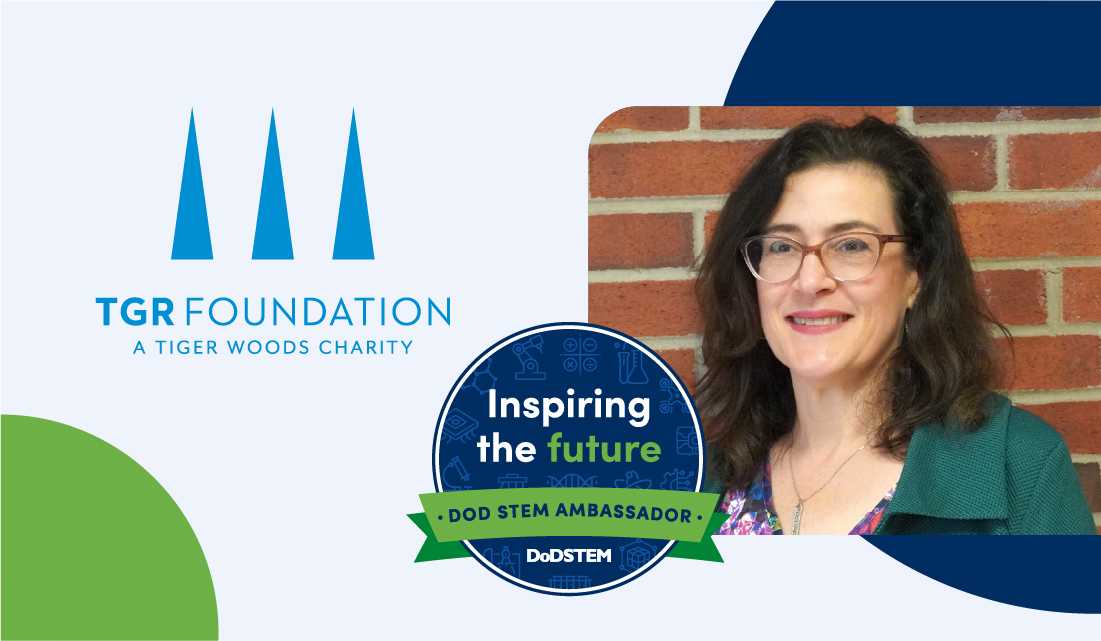 The following was written by Lisa Blank, Watertown City School District Director of STEM Programs and DoD STEM Ambassador. DoD STEM Ambassadors work with the Defense STEM Education Consortium (DSEC) to advance STEM outreach for students who are underrepresented in STEM and/or military connected. Blank was selected by TGR Foundation, a DSEC partner, as their DoD STEM ambassador for the 2021-2022 school year.
In 2018, I began collaborating with educators across the state to develop New York's Computer Science and Digital Fluency Learning Standards. As our team engaged in deep thought and discussed the needs of our students and communities, the importance of our work, which we summarized in a standards vision statement, came into clear focus:
"Every student will know how to live productively and safely in a technology-dominated world. This includes understanding the essential features of digital technologies, why and how they work and how to communicate and create using those technologies."
While artificial intelligence (AI) is not specifically assigned its own standards, a few words and phrases in the vision statement stand out to define the importance of AI in K–12 education. They are as follows:
Live productively and safely
Technology dominated
Understanding why and how it works
AI impacts our daily lives in multiple ways. It is used in a variety of computerized learning systems that support and enhance learning experiences for our students. Each day students log into a variety of platforms that gather student input, apply complex algorithms to identify learning needs, establish instructional groups within classrooms and assign learning tasks to pinpoint the unique needs of individual students. This use of data can be transformative for our schools, yet those using this technology know little about how the AI that drives these platforms works.
In the 2020 documentary Coded Bias, MIT Media Lab researcher Joy Buolamwini shed light on biases that can exist within AI. Buolamwini was shocked to find that facial recognition software did not recognize her dark skin. This and other examples of computing system biases led to the first-ever legislation against bias in algorithms. This was a wake-up call. Today's students will build the technologies of tomorrow. Therefore, basic understanding of machine learning is critical. The quality of input data impacts outcomes, as do the algorithms involved in processing that data. It is imperative that system developers have knowledge and understanding of the potential challenges associated with AI in order for society to move toward a future free of system bias.
Stephen Hawking once stated, "AI is likely to be either the best or worst thing to happen to humanity." We have the ability to shape the future of AI through education and forge a path for AI to be a positive force for the good of society.
How to begin? One way is to link computer science language with playful activities for our youngest learners. Inputs, outputs and algorithms can be taught through simple step-by-step processes involved in play. As students progress through grade levels, application of standards for learning help educators identify relevant content and activities. In the earliest grades, students begin with developing understanding of basic concepts. By the time students graduate from high school, they will have engaged in learning activities focused on the creation of AI applications and participated in thoughtful debate surrounding the ethical implications associated with the impacts of AI upon society. The outcome will be a technology-literate society, equipped with knowledge and understanding to support informed decision-making and the creation of AI technologies for the good of society.
AI is disrupting teaching and learning — not just by changing the way we teach but in causing us all to think deeply about what we teach for the good of society. For ideas on getting started with AI education, check out TRAIN, ATTAIN, SUSTAIN, a capstone project for Artificial Intelligence Explorations and Their Practical Use in School Environments, an International Society for Technology in Education (ISTE) Learning Course sponsored by General Motors. This resource focuses on activities for grades 2–12 that are matched to standards from ISTE, Artificial Intelligence for K-12 Initiative, New York State, the Computer Science Teachers Association, the American Association of School Librarians, and the Empire State Information Fluency Continuum. Links are included in the references below.
References
Blank, L., Elmer, T., & Lee, J. (2022, May). TRAIN, ATTAIN, SUSTAIN: Exploring how AI impacts and forms our experiences today, tomorrow, and in the future. Watertown City School District. https://drive.google.com/file/d/1ORIhQrwlESbsxQlAWa7CnNnq-UMRT79H/view?usp=sharing
Kantayya, S. (2020). Coded bias [Film]. 7th Empire Media. https://www.codedbias.com
Munad, S., (2022, April 12). Impact of artificial intelligence in our daily life. Tech Insider 360°. https://techinsider360.com/impact-of-artificial-intelligence-in-our-daily-life
New York State Education Department. (2020, December). NYS K–12 computer science and digital fluency standards. https://drive.google.com/file/d/1gLgWlEhyRZ0mo15qX15BWxuywdgr7mPL/view
Standard Links
American Association of School Librarians: https://standards.aasl.org
Artificial Intelligence for K–12 Initiative: https://ai4k12.org
Computer Science Teachers Association: https://www.csteachers.org/page/standards
Empire State Information Fluency Curriculum: https://nycdoe.libguides.com/librarianguidebook/esifc
International Society for Technology in Education: https://www.iste.org/iste-standards
New York State Computer Science and Digital Fluency Learning Standards: http://www.nysed.gov/curriculum-instruction/computer-science-and-digital-fluency-learning-standards
About DoD STEM and Defense STEM Education Consortium
Defense STEM Education Consortium (DSEC) is a collaborative partnership of STEM-focused organizations dedicated to addressing and prioritizing our nation's STEM talent. DSEC aims to broaden STEM literacy and develop a diverse and agile workforce with the technical excellence to defend our nation. Through strategic investment in STEM education and outreach activities, the effort will provide students with more exposure to educational and career opportunities as well as DoD research. DSEC is led on behalf of DoD STEM by RTI International.
About TGR Foundation, A Tiger Woods Charity
TGR Foundation's award-winning STEM curricula, college-access programs, digital platforms and educator professional development offer underrepresented students the resources and support needed to thrive in school and beyond. TGR Foundation's role in DSEC is to provide STEM teacher professional development to aid in the implementation of high-quality, integrated STEM teaching and learning, particularly for underserved students.